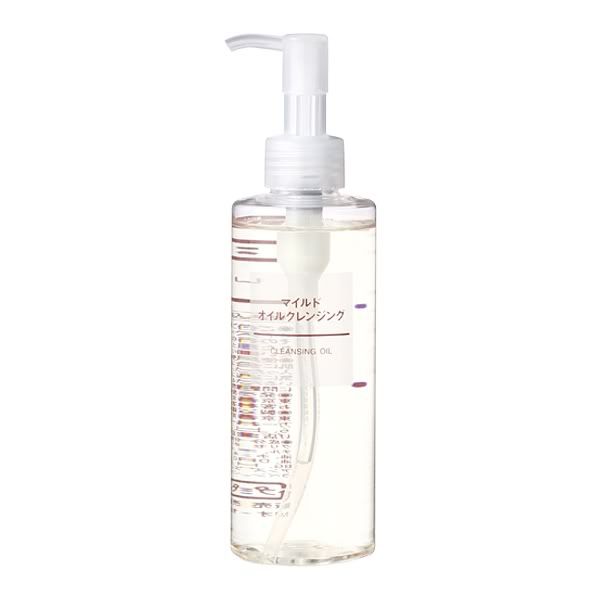 Description (also from Muji Europe): In Japan, oil based cleaners are generally recognised as superior. This highly effective combination of olive oil and jojoba oil blends in quickly and completely removes make-up. Gently massage 3-4 pumps onto your skin. Rinse with water after use.


Price & Amount:
I bought the 200ml bottle (red label) in Singapore for $13, which is a little less than 450 pesos. The sensitive skin variant (blue label) in the same size is available in Muji Philippines for 395 pesos according to
Project Vanity
, so presumably this version is cheaper here. I didn't see it when I visited the store, though. There are also 50ml and 400ml versions.
Packaging: Clear plastic bottle with a pump and a no-spill clip for the pump, which is super useful especially if you have lots of bottles on your shelf that you can easily knock over with one swipe. Save it! :) I also love the simple design of the bottle. I tried translating the Katakana front label using my very rusty Japanese and came up with "mairudo oiru kurenjingu" which roughly translates to "mild oil cleansing".
Review:
On a trip to Singapore, I came across the Muji store in Paragon and was super excited. I had heard of this cleansing oil online and it was the only thing I walked out of the store with. I have no regrets. :) Since the labels were all in Japanese I did a bit of Google-fu and found this ingredient list on the Muji Europe website:
Hydrogenated polyisobutene, PEG-7 glyceryl cocoate, ethyl oleate, sorbitan oleate, olea europaea (olive) fruit oil, simmondsia chinensis (jojoba) seed oil, healianthus annuus (hybrid sunflower) oil, dipropylene glycol, citrus aurantium dulsis (orange) flower water, water, butylene glycol, propylparaben, butylparaben, tocopherol, prunus armeniaca (apricot) juice, glycerin, prunus persica (peach) leaf extract.
One of the big points for Muji cleansing oil is that it does not use mineral oil, which can apparently clog pores. This does, however, have parabens, if you are avoiding those.
To use, pump out your desired amount and massage it on your face, taking care around the eye area. Dampen your hands with water and rub it in to emulsify the oil, then proceed to completely wash it off. I've heard that warm water is better with cleansing oils but cold water is just fine as well.
The oil has a faint oil-y, herbal smell that I actually quite like, but would probably not want to sniff more intensely. One pump is enough to clean off everyday makeup, and I add a half pump more if I'm using waterproof mascara. My eyesight gets somewhat blurry during use, but it's gone once I wash the oil off. It removes everything pretty well and does not leave my face feeling too greasy, but I still follow up with a facial cleanser out of preference.
Overall I'm impressed at how easy it is to use cleansing oil, and how well it removes makeup. Plus, it's cheap compared to other known cleansing oils in the market. I hope Muji restocks soon because I need backups and travel sizes. ;)