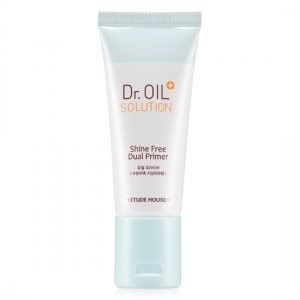 Description (from box): "Moisturizing and pore coverage makeup primer improves foundation makeup expression and longevity." I like the part about improving makeup expression, I've never heard that from a product before :) It's a fanciful way of saying it'll help makeup look better (which is to be expected of all primers), but not so fanciful that it's unbelievable. What do you think? :p
Price & Amount: 498 pesos per 35 mL + 1.5 g.
Packaging: The Dr. Oil Solution line is housed in decidedly more serious packaging than most if not all of Etude's all other products. Nevertheless, the packaging is clean and bright enough to still have that Etude House feel. Near the top of the tube one can see white ruler lines against the baby blue, which I find quite cute. The primer is in a standard plastic tube with the product label and amount, but no ingredients. You'll have to check the box for that. The tube ends in a small nozzle, perfect for the product type and in terms of how much of the product you'll need for each use. The cap is screwed on and is bigger than usual because it houses the pore covering primer at the end, accessed via a flip-top cap. Not very hygienic but something I can live with... that and a spatula, anyway. On the underside of the cap is a magnifying mirror, which is a nice touch especially when you're applying this on-the-go.
Review:
I have a confession to make: I do not know my skin type. I've always thought that I have combination skin, because I suffer from neither the cornflake nor the oil-mine syndrome. (I tend to believe these exaggerations, yes.) What I do know is that my nose shines up every now and then, so while the makeup I put on in the morning stays for the better part of the day, I need to make sure that my shiny nose will not draw attention. This is where this product comes in.

The Shine Free Dual Primer is a 2-in-1 product in that you get two kinds of products in the tube: one is a liquid primer while the other is a solid, meant for covering pores. Respectively the box refers to them as Moisture and Pore Cover. It sounds a bit awkward to me, but maybe it's just me :p

The liquid primer is apparently meant to moisturize as well as to prime the face, and it contains quite a few plant extracts in its ingredient list. A few examples are grapefruit, cranberry, lavender, and tea tree (so if you react to any of those, especially tea tree, please do not use this). It is still a primer, though, because 1.) it contains silica and 2.) it has a very thin consistency, which I think doesn't provide ample moisture. Therefore I still would recommend using your favorite moisturizer underneath this, and to treat it as a makeup product, not skincare. It has a very nice, clean smell, which reminds me a bit of bath soap. You only need a little to cover the whole face, and it does leave my face looking a little more flawless and put-together.

The solid primer is meant for those areas with noticeably larger pores. For me this means my nose and the cheek area right between the eye(bags) and nose. When applied on the skin you may notice some slight sparkles, but the effect is very subtle. And it really does cover pores! I loved the effect of this. Dimethicone and silica are its top two ingredients so you can bet it's the actual primer of the two (silica falls low on the liquid primer's ingredient list), but it also contains the same plant extracts. Dimethicone is a known sunscreen ingredient as well, so this (along with titanium dioxide, also in the ingredients) offers you some degree of sun protection. There is no indicated SPF for this product though, so it doesn't replace your regular sunscreen.

Did this product alleviate my shiny-nose fears? Yes! Not for the entire time, of course, but it sure lessened my paranoia about an oily nose. I have yet to check whether I break out with this, though, because I haven't been using it consistently. (I've been using it sparingly, haha!) Silicone isn't for everyone, especially for someone who still has to discover their skin type. I might have combi-dry skin for all I know and silicones shouldn't be a priority :p


Overall this is a good product to have for some oil control and pore coverage without the hassle of having to touch-up every few hours. Perhaps once or twice a day will do, unless you have really oily skin. I also recommend this product if you're looking to try something from Etude House, since it really does work. :)