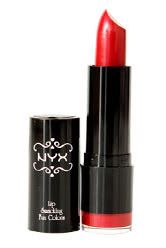 Photo credit: NYX (cropped by me)
Description:
A velvet-textured lipstick formulated with mineral oils to provide moisturizing benefits and rich colors. NYX's top selling lipstick, the Round Lipstick offers long-lasting, non-smudging color.
Price & Amount:
Amount is 4 g./0.14 oz. This retails for $4 from the NYX website. Locally, this is available for P299 in Pure Beauty in Serendra & Beauty Cocktails in Glorietta 4. I was able to buy this for P160 from Digital Traincase, though prices by online sellers can go as high as P250.
Packaging:
Black and white plastic tube with a clear part at the bottom that shows you the shade, which is quite helpful considering the rest of the packaging. It looks and feels cheap, but hey, it
is
cheap. The locking mechanism when you twist the lipstick down for storage is more obvious and reassuring here compared to the other lipsticks I own (MAC,
Maybelline
,
Etude
). I found this to be true for all but one of the lipsticks I have, which is really loose on the other hand. Inconsistencies in packaging perhaps, or just bad luck.
Review:
When I received the NYX Round Lipsticks from Sol of
Digital Traincase
after coming home from work, I had to resist using them right then and there because I wanted to experiment with taking product pictures during daytime. The next morning I snapped so many pictures and used two cameras, so forgive me for the trigger-happy entry.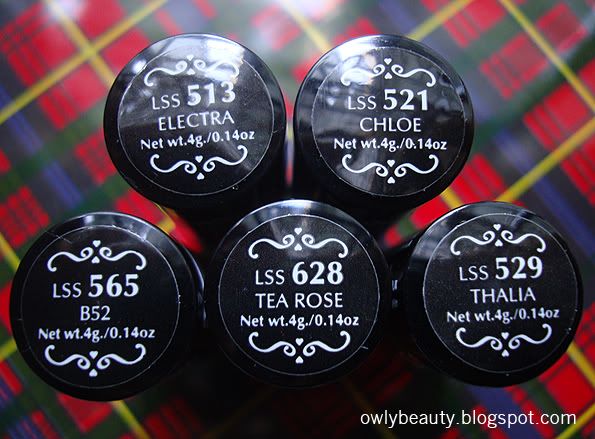 My general thoughts:
Wide, overwhelming selection of shades and finishes. Swatches on the website, however, may be rather inaccurate and give no indication of the finish. Best to Google around for a particular shade that catches your fancy to see how it would really look on the lips.
Very pigmented and creamy. I find that they stay put until I eat or drink, at which point it disappears. The creaminess of the lipstick means I have to exfoliate thoroughly beforehand or it catches onto any and all dry patches. Settles into fine lines a bit as well, though it's not as obvious with the darker shades.
Synthetic scent and taste, but something I can live with. The scent could cause headaches if you really sniff it (which I did for testing purposes, haha).
They are also drying, and cause trouble for my already dry lips. I slather on more balm and have to give it time to settle before applying the lipstick, or else it will just slide.
The price (depending on where you buy) allows you to indulge without fear of wasting money. Thus, I ordered a couple of bold shades to try next to the everyday ones I really wanted.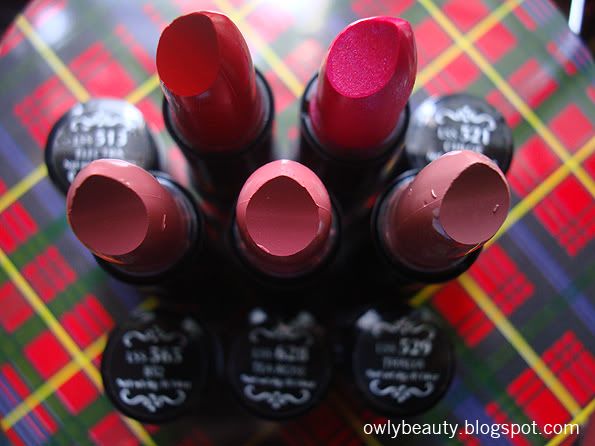 Jump for photos and swatches!
Thalia
is the lightest of the lot and is a mauve pink nude. When I first applied it I found it quite garish, but settled rather beautifully and looked very natural. I do the most prep work with this shade since it's so light. This would look good with smokey eyes if I knew how to do them!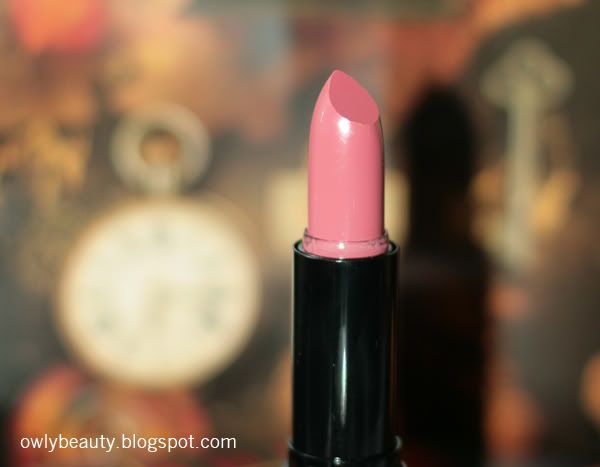 Tea Rose
is more pink than the mauvey Thalia and is just lovely. The name makes me think of white gloves, lace, and teatimes in gardens, and I bet this shade would look quite appropriate for a dainty young lady. This is the shade I used in my recent FOTD (click
here
if you want!). Prior to purchasing these, I avoided pink lipsticks because I thought they were too bright and obvious. Tea Rose made me change my mind; sometimes all you need is a hint of pink. :)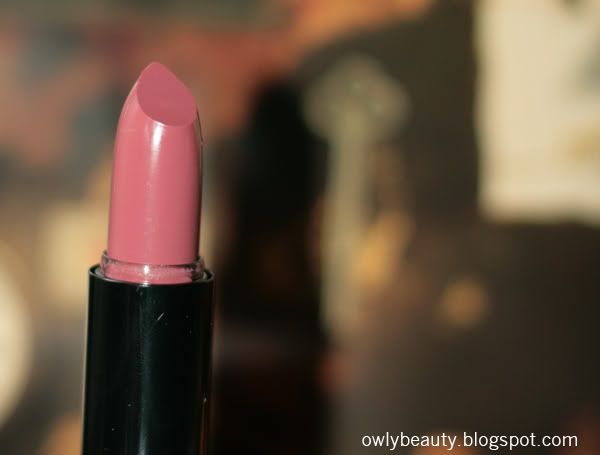 B52
is the darkest of my MLBB (my lips but better) lipsticks, with more brown tones than Thalia & Tea Rose. This is my preferred shade for an everyday lip. My Etude House lipstick looks practically peach to this in comparison.
Electra
is bold shade #1. When I made my initial notes for this shade, I had typed out "hot hot hot vampire sexy pinup red". Haha! From other reviews I've read that this is a blue-based red, though I found that using a normal digital camera it photographed a bit pink on me. (??) It has a glossy finish and I would probably need to use lipliner for this, which I do not have.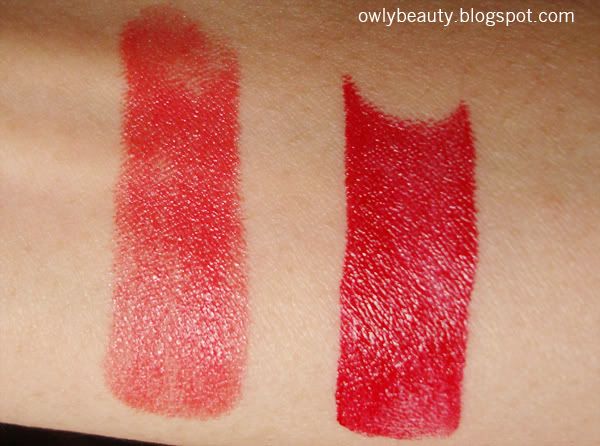 And I thought Maybelline's Papaya Milk was bright. It's the one on the left.
It really brightens up my face, though, and I'm glad I purchased it. It's crazily pigmented! I just need the guts to wear this outside the house.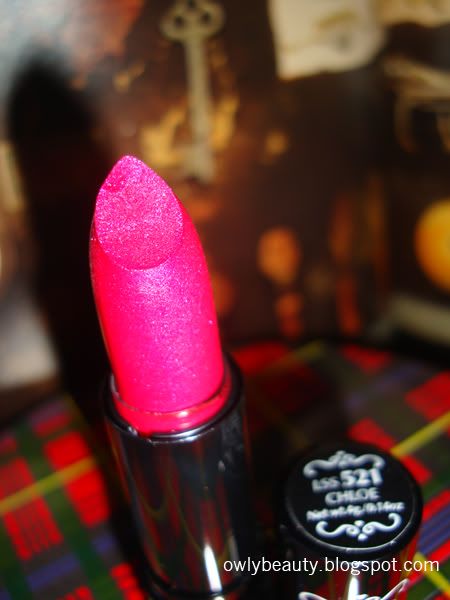 Last and definitely not the least is
Chloe
, bold shade #2. It's really a fuchsia pink, not neon-like as in the photo, but I posted that one to show you the absolutely gorgeous sheen. It looks almost like blue shimmer! I saw this shade on
Temptalia
and I liked it so much, but I was apprehensive because I need more guts to wear this out than Electra and I am generally not a fan of frost finishes, but I caved anyway.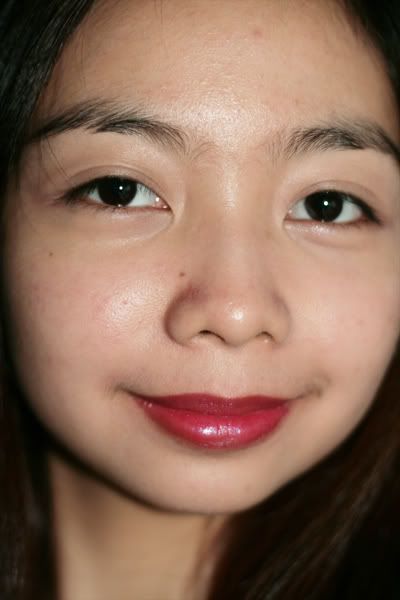 Chloe in a thin layer on my lips. Excuse the tired eyes, I have only BB cream in this picture. Not bad right?
No regrets here. Chloe is a beautiful, beautiful shade. It applies sheer compared to the other shades I own, but I like it that way since the shade itself is a bit overwhelming. It is buildable if you really want to amp it up. It doesn't show up in fine lines as much, and weirdly enough it feels the most comfortable.
Swatches! Click to enlarge. From L-R: Thalia, Tea Rose, B52, Electra, Chloe. With and without flash.
Overall? I love these lipsticks. They're cheap, they're gorgeous, and they motivate me to take care of my lips better. The last one is the best part. :p Get them if you can!