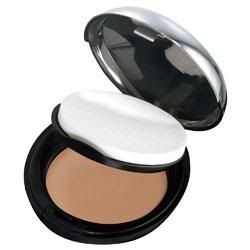 Description: This combined foundation and powder gives a velvety, matte base. Use this product dry for a light matte finish or wet for higher coverage. Includes sponge and detachable mirror. Dermatologically tested.


Amount & Price: 1,295 pesos for 9 g / 0.3 oz. TBS regularly has sales though, sometimes they give 40% off on this product. Or you can go for the "buy 1 at regular price, get 50% off on your next" promo which is still good value depending on what you buy.
Packaging: Plastic case in silver (lid) and TBS' signature green color (everything else). The silver lid is scratch & fingerprint heaven and isn't as easy to wipe off as a glass surface, I think. When you open the case the first thing you see is the sponge compartment, and right underneath it is a decently-sized mirror. The "detachable" part in the mirror description means that you can flip the mirror up, not completely remove it as I thought when I read it, haha. The product is found in the bottom compartment. The case overall is a bit bulky but it's still a nice size for my small hands. Ingredients may be found by peeling off a sticker underneath the compact.
Review:
I remember buying this on my birthday, when it came in a gift pack of sorts with a blush. Coverage is medium when applied dry, which I found to be enough for me. I never tried it wet, because I would usually try to use up my BB cream and top it with this when I wanted fuller coverage. I don't need much oil control but this provided for that as well; I only had to blot once during a workday. The velvety matte finish is something I particularly liked, and I never realized how much I liked this product until I started using other powders. Now I'm anxiously waiting for another 40%-off promo so I can stock up! Used everyday, this powder will probably last you anywhere between 6-9 months. There are 6 shades to choose from but they all lean on the fair-medium side, so morenas might have to look for another alternative. I have this in shade 05 and I was matched as NC20-25 (!! will have to reaffirm this) on my only visit so far to a MAC counter. Speaking of MAC, I think this Face Base is TBS' answer to MAC's Studio Fix Powder Plus foundation, which I've personally never tried. If you've tried that, this just might work for you too, and it's a bit cheaper as well. I will definitely repurchase as I really like this, and I'm glad there's a powder foundation I can come back to if my other purchases don't work out.