When I started to get more into makeup, I first had a Body Shop phase. I would save up my allowance so I could spend the minimum of getting my voucher stamped every time I bought something. It didn't hurt that their makeup is of very good quality and that their choices were not as dizzying as their skincare ones :p I still count myself lucky, though, that all the makeup I've ever gotten from them has worked wonderfully for me. I first shared the All-in-One Face Base with you girls (click
here
for the review), and next up is their Flawless Skin Protecting Concealer.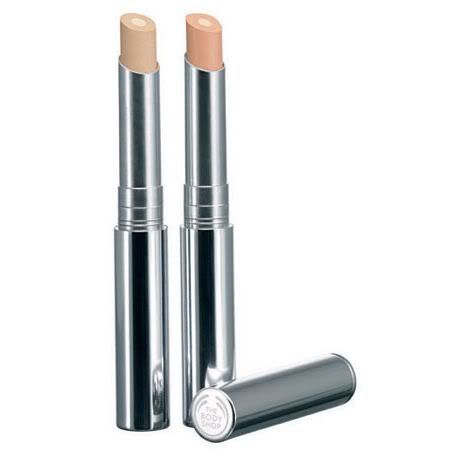 Description: A stylish cream-to-powder concealer enriched with baobab oil, naturally rich in vitamins and moisturising agents to care for your skin and zinc oxide to help combat impurities. The product features a sophisticated delivery system with clear active essence suspended in a special core structure.
Price & Amount: P695 for 2.3g. The Body Shop has regular sales, though!
Packaging: Shiny silver plastic stick with the TBS logo on top and a sticker with the shade number and color at the bottom. The case is very fingerprint- and scratch-prone, but it clicks closed pretty well. I've never had problems with this accidentally opening in my bag.
Review: This concealer is available in four shades and I have it in shade 01, which is very yellow-based. The concealer comes in stick form and is moulded around the "clear active essence", which I suppose is the medley of moisturizing ingredients meant to help your skin. The core reminds me a bit of a glue gun stick, haha :) There is a bit of a crayon/wax-like smell, but isn't very strong and is hardly noticeable once applied.


The concealer is creamy and easy to use, though it tends to dry up if I've left it in an airconditioned room or when the weather is cool. For times like these I roll the stick between my palms several times to warm it up. Coverage is light to medium. Putting more layers or a thick layer all at once might look a little too patchy, so gentle patting/blending is a must. To apply, I first make a thick layer at the back of my hand (this warms it up as well) and use my finger to pick up some of the product. This allows me to control the amount used. When I'm in a hurry and the concealer doesn't look too dry I dab it straight on and pat it in. I find this a little too drying for the undereye area, but it does a decent job of covering blemishes and redness.

Writing this entry made me remember why I like this concealer so much. :) The combination of this plus the Face Base gave me a flawless, matte look that held up well throughout the day. I recommend this, but I also recommend moisturizing very well before applying the concealer. This will allow a smoother, more even base for it, and hopefully that will help you avoid the patches. You will only need a little at a time as well, so the price is pretty fair.