Happy New Year! :) Starting off with a review of one of my favorite lipsticks: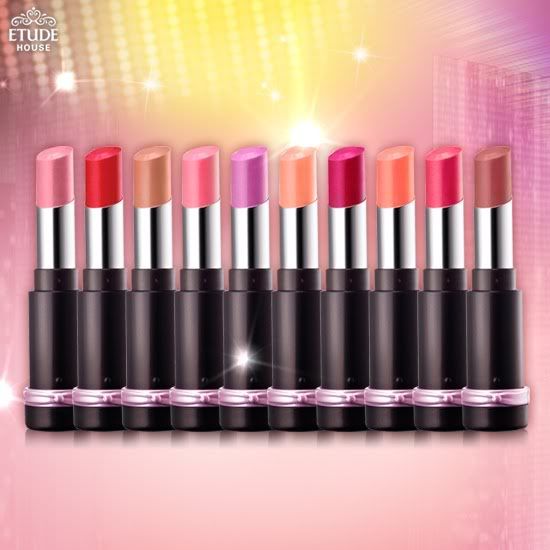 Look at all those pretty colors!
Description
(from box): Makeup line promotes LED (Light Emitting Diode) color, radiance and clarity to makeup expression.
Price & Amount:
P478 per 4.5 g / 0.15 oz.
Packaging
(photos from
Etude House Philippines
):
The lipstick is housed in a flower-shaped plastic case with a bow design at the bottom. Underneath is a sticker with the shade number (and name, presumably, but it's all in Korean). Pretty but it feels cheap. The case is a bit bigger than a MAC lipstick.
Review
: I have this in No. 10 Mocha Beige (English names can be seen
here
). There are 11 shades available, though the 11th was released only recently in the Golden Ratio collection. I used this image as a reference for picking shades: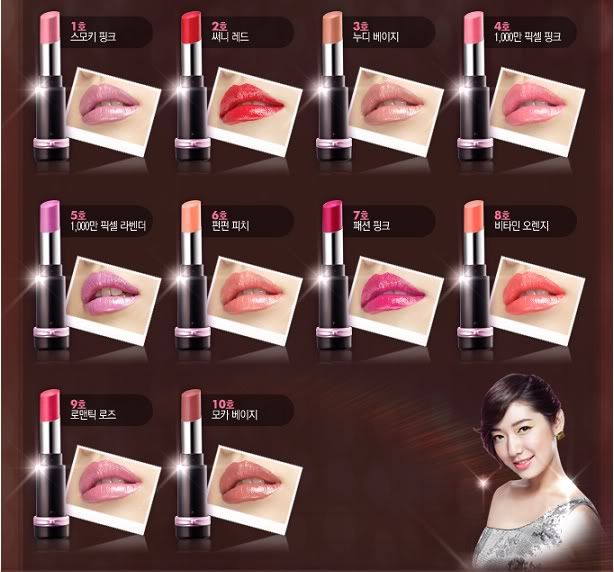 I liked No. 10 because it seemed to be the most natural and I didn't want an attention-grabbing shade. I found the guide to be near-true (see swatch below), because I did end up going away with No. 10 when I used the testers. Side story: I have this fear of using lipstick testers, but I was lucky enough to be the first to use the ones in Etude House's kiosk inside the SM Fairview department store. So I tested to my heart's content!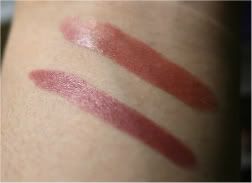 No. 10 Mocha Beige (on top). The bottom one is from MAC, which I'll review in another post!
No. 10 is indeed a brown-toned lipstick, but on my lips it leaves a hint of pink plus a little shine (the LED effect, I suppose!). It's very suitable for everyday wear, which was just what I was looking for in a lipstick. I did find this to settle in lines after awhile, so it's best to use a lip balm underneath. It's my SOP to use lip balm so this wasn't a problem for me. When reapplying it's best to take the entire thing off (say, after a meal) and slick on a fresh coat of balm + lipstick. It takes a little more time, which may be a turn-off for some. And the nice thing about MLBB lipsticks is that when it starts to fade, it's not as noticeable ;)
Will I repurchase? Yes! But I won't for now because there are so many more brands of lipstick to try out there. Also, I feel bad about purchasing so many MLBB shades for some reason. I almost bought NYX's B52 but it looked too close to the two everyday shades I already have (plus I felt it was overpriced for 299 pesos :c). Ironically, I'm also a bit scared to try brighter, bolder lipsticks. We'll see! It's a new year, after all. :) Any brands and shades of lipstick to recommend? Please share in the comments!