Note: The Moisture Extreme lipstick is sold in the Philippines as the ColorSensational Moisture Extreme lipcolor. What a mouthful.
Description:
Sumptuous satin lipcolor with built-in balm
All-day, deep-down moisture nourishment
Anti-chap ingredients repair and protect lips
Contains Vitamins C, E, and Jojoba
Price & Amount: P299 for 4.0 g/0.14 oz. However, I managed to get mine in Singapore because the L'Oreal Beauty Sale was happening right in our hotel at the time. If I remember correctly, they were going for two for SGD$10 (around P330 at the time). Bargain!
Packaging: Shiny red plastic that stands out in your makeup bag. It feels very light and flimsy, but the cap is pretty secure. A con for these lipsticks when they were sold in Singapore is that all the shades have the same red packaging, which meant that to know which shade you were picking up you had to look at the bottom. Definitely not a grab-and-go lipstick here if you have more than one shade in your bag. In the Philippines, however, the packaging color is according to the color family the shade is in (pink, red, orange, brown), so it's easier.
Review:
Here are some of the shades, freshly bought and sitting on the hotel desk in Singapore: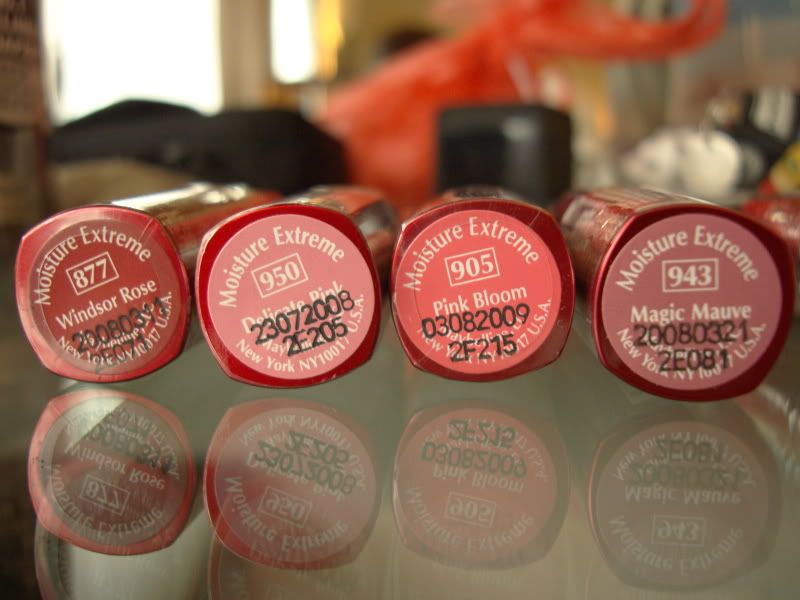 I gave most of these away to friends, but was left with five pretty shades.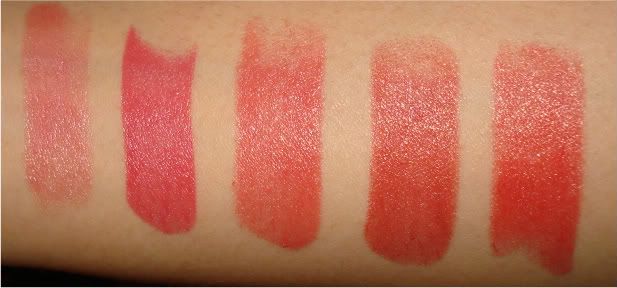 With flash. L-R: Pink Bloom, Light Berry, Coral Pink, Buff, Papaya Milk
Of the five shades, Pink Bloom is the only color that I can confidently swipe on. All the others pack a lot of color and require more precise application. Dabbing on the lips already gives an even layer of color and all the shades are very buildable. I reapply after a meal because they do transfer when you eat or drink; otherwise, they stay put and just look a bit faded at the end of the day. While they do feel a bit moisturizing, they emphasize fine lines and do not look nice on peeling lips. I still put balm underneath and regularly exfoliate. My favorite is Pink Bloom because it's perfect for everyday, but I also like how Light Berry brightens up the face due to its purple undertone. Coral Pink & Buff are perfect for those client meetings/trainings, while Papaya Milk... I've only ever worn it outside the house once, and that was to a 20's-themed party. I'm not sure if I can carry reds yet!
I recommend these for people who are looking for comfortable, pigmented lipsticks that won't break the bank. Maybelline regularly has sales as well so you can probably get them even cheaper. :)