I'm very dependent on lipbalms. My lips crack pretty easily be it rain or shine, and it's not a pretty sight. I always bring one with me wherever I go, especially since I've taken to wearing a lipcolor everyday. Mentholatum came to Philippine shores a few months ago, so read on for my reviews! :)
First up is LipIce Fruity.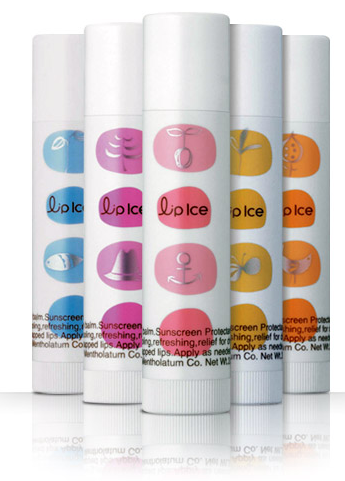 Description (from tube): Lipbalm. Sunscreen Protectant. Cooling, refreshing, relief for dry chapped lips. Apply as needed.
Price & Amount: Php89 for 3.5g
Packaging: Simple white tube packaging that takes some effort to open, which means it's not likely to spread balm all over your things. :) I love the design on the tube, it makes me want to collect them all. Like Pokemon!
Review:
This is the proverbial "wind beneath my wings". I slick on a layer of this as part of my skincare routine and by the time I'm ready to put on a lipstick, it's settled nicely on my lips. It applies clear, with a cooling effect that is nice and not too harsh. It doesn't feel thick or heavy but it moisturizes pretty well and keeps it that way for several hours. This also has SPF15.
I think I'd go so far as to call this my HG lipbalm! No need to look for another, which is admittedly harder than it looks. It comes in 5 variants: Apple (blue), Grape Blackcurrant (purple), Strawberry (pink), Lemon (yellow), and Orange Mandarin (orange). I'm thinking of trying the orange and purple ones next. :)
I also picked up a second one to try, LipIce Sheer Color. I read reviews of this online and was curious about the color-changing part.
Description:
Changes color to a natural sheer pink according to individual lips.
A gentle Beeswax formulation suitable even for very sensitive skin.
Contains natural ingredients of Shea Butter Oil, Macadamia Ternifolia Nut Oil, Jojoba Oil and Aloe Extract to keep lips moisturized, smooth and healthy.
Contains effective anti-oxidants of Vitamin E to soften and protect lips against the harmful environment.
Price & Amount:
Php145 for 2.0g
Packaging:
Slim pink and silver lipstick tube. Very cute and easy to tote around!
Review:
If LipIce Fruity is the "wind beneath my wings", LipIce Sheer Color is the "lady-in-waiting". Sometimes I forget to bring a lipstick, or my lips are in just too bad a condition. Sheer Color looks similar to LipIce Fruity in that it's a white stick of balm, but it adjusts to a nice pink color depending on the lips of the wearer. It saves me the trouble of worrying about how my lips look after a long day, which I normally would do when I use lipstick. I'm assured of a bright, glossy pink that lasts 'til I eat--it stays put through drinking--which I don't mind because it's super easy to reapply.
I picked the Strawberry variant but there's also a fragrance-free option. The Strawberry one smells like Fruit By The Foot, a candy that I love to this day. :D And just look at that color: