I'm alive! I was in a bit of a lull last week; I'd begin editing an entry for one product or another but lose interest halfway through--or sometimes, before I even added anything new. Try as I might, nothing would come. I realized I shouldn't force myself to write if I didn't feel like it; my entries wouldn't be personal otherwise. I hope to keep on writing about the things I love, and when I'm loving them.
I am inspired to type out this entry because I went to a wedding today, and I did my own makeup. I seldom wear eyeshadow (concealer-and-lipstick type of girl here), so I had to put in a bit of effort for this one.

I just realized that the blending isn't even for both eyes. Goes to show you how much I have to learn!
(And good thing no one said anything about it at the wedding...)
Prepping the eye area involved a touch of Urban Decay's Primer Potion and
Skinfood's Salmon Darkcircle concealer
. All my eyeshadows are
Ellana Multipurpose Mineral Powders
. Patting motions were used to put
Inspiration
(golden beige frost) on the lid, while I worked
Delicate
(taupe brown frost) into the outer V and crease.
Honeybunch
(pale brownish peach frost) went on the browbone, and
Confess
(pale rose frost) into the inner corners of the eyes. These were all done using a variety of makeup brushes, both full and travel-sized, from
Charm
.
I lined my eyes with Maybelline gel liner in brown & used a matte brown eyeshadow from a GWP Lancome palette to set it. Lastly, I used Maybelline's Cat Eyes mascara for my lashes. I tried using a mascara guard from Etude House, but it takes some getting used to! Also, my brows are bare in the picture, but on the way to the church I used In2it's brow kit.
As for the rest of my face: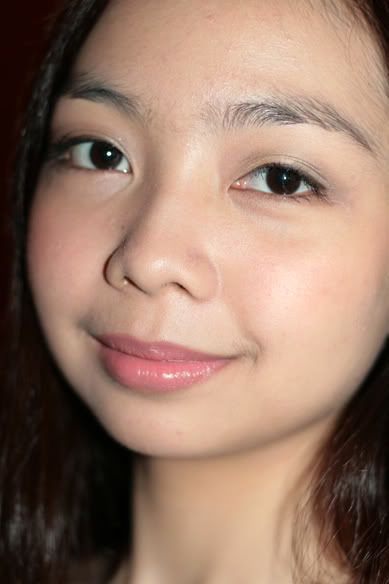 Skinfood Red Bean BB Cream SPF 20 PA+
was applied using a wedge sponge, followed by
NYX Concealer in a Jar in Beige
and in areas that needed a little more help. I got a bit of
Ellana Sheer Velvet HD Mineral Finishing Powder in White Chocolate
--oy, what a mouthful--to tame down the shine from the BB cream, using my kabuki brush from The Body Shop. You can also see a hint of the
mineral blush in Fulfillment
from Ellana yet again, which I applied rather sparingly because it's pretty bright. Lastly, I applied
NYX's round lipstick in Tea Rose
over
Mentholatum lip balm
.
Aaand that's it. If any of the products I've used (including the brushes) have caught your fancy and you'd like to know more about it, drop me a line in the comments! I have so many drafts of reviews, I'm just not sure where to start. Your feedback would be really helpful. :)