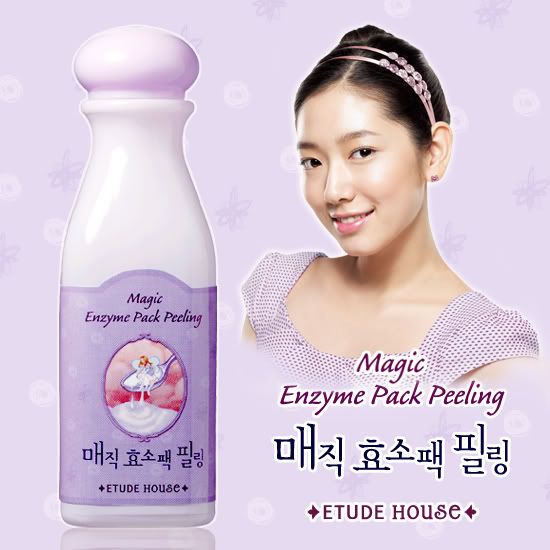 Description: Gommage treatment with enzyme & yogurt to exfoliate and nourish complexion and remove oil, dirt and excess.
Price & Amount: I bought this for P628 for 115mL. It is locally available in Etude House stores in the country.
Packaging:
Hefty glass bottle in cute pink and lavender colors. It is a bit hard to get product out through the top (similar to my problem with
The Face Shop's toner
), also party because of the bottle itself. However, you only need a bit of product per use.
Review: Peeling packs are nice alternatives to scrubs because they're purportedly more gentle on the skin. Scrubs work to physically remove dead skin cells, while peeling packs use chemicals. The "gommage treatment" claim on this particular peeling pack sounded interesting but a little confusing, so a bit of Google-fu was in order.

The word "gommage" reminds me of rubber, and I guess it was a close enough guess: gommage is from a French word that means "to erase". They're commonly found in spas as treatments for either the face or the body. It comes in the form of a paste or cream which is applied in a thin layer over the skin, left to dry for a few minutes, then gently massaged away. The gommage usually has ingredients that help dissolve dead skin cells, such as enzymes. The rubbing action of the massage helps to slough off the dead skin cells, leaving smoother skin. Essentially then, peeling packs and gommage treatments work the same way.

Etude House's Magic Enzyme Pack Peeling, however, is a milky liquid with a thin consistency. No creamy/paste-like stuff here. I know some peeling packs are thin in consistency, so the gommage treatment part comes in through the yogurt ingredient I think. It has a nice floral-citrus scent, and it took me some time to rack my brains on this one but it smells like Clean & Clear's Clear Fairness moisturizer.

After a few tries I found that the best way to use this product is to take a good amount and constantly rub the skin with it until it balls up. The instructions on the bottle say to leave it to dry but since the product is very thin, it would dry up fast and take a good amount of rubbing before it balls up. It's painful for areas with fine hair. :( The result is lovely smooth skin, though, with a bit of a brightening effect. I decided against using this on my face and now use it on my knees and elbows instead. It works quite well in those areas. :)

Do you need this? No, not really. It was a fun product to try, but not something I'd feel like repurchasing in the future. Plus, one bottle will last you quite awhile.