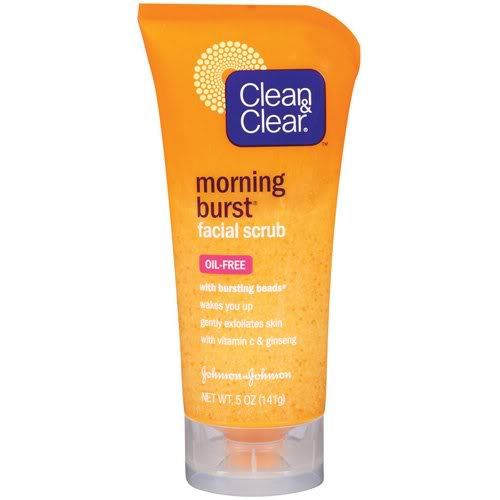 Description:
Clean & Clear Morning Burst Facial Scrub is specially formulated with effective clenasers and bursting beads, which burst with energy and vitamins, and help nourish skin. It also contains scrubbing beads that gently exfoliate away dull, tired-looking skin to reveal softer, more radiant skin. With an invigorating citrus fragrance that will instantly enliven your senses, Clean & Clear Morning Burst Facial Scrub leaves you looking and feeling energized for the day ahead!
Won't clog pores
Hypoallergenic
Oil-free
With Vitamin C & ginseng
Price & Amount:
I got this in Duty Free but I can't remember the price. This goes for $5.40 for 141g in
Amazon.com
, and is unfortunately not available locally. I wish it were!
Packaging: Semi-transparent bright orange tube, so you can see how much product you still have left. The tube is huge, around as big as Etude House's Happy Teatime Cleansing Foam (which I have and will review soon!). The flip-top cap is clear and pretty secure.
Review: I picked this up on a whim because the "wakes you up" claims got me curious. I love Clean & Clear's range of products here so I figured I wouldn't go amiss with this purchase. The cleanser itself is a clear, runny gel with lots of little grains, which are white and pale yellow, and orange beads. It has a nice citrusy scent which reminds me of their Daily Pore Cleanser (which is apple-scented, I think). Less vigorous scrubbing is needed with this because the cleanser does the job for you anyway. It claims to have "bursting beads", but I don't feel them burst either because they're too small or they really don't. Either way they do a good job of exfoliating.

The cleanser really does wake you up. My face feels fresh after use, and for a non-cream cleanser I'm impressed because I don't feel any tightness in the skin despite the weather. I love using this on early mornings or times when I haven't had enough sleep, though I only use this every other day or so since too much exfoliating is bad.

If you're able to find this abroad or on a trip to our Duty Free, I don't think you can go wrong unless you break out from Clean & Clear cleansers. I'd repurchase if it were more readily available! When I run out of this and I miss it, I'll probably pick up the Daily Pore Cleanser as an alternative. :)