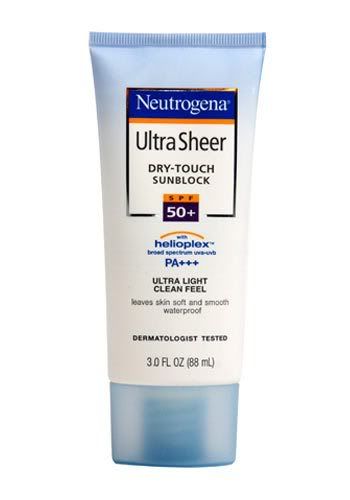 Description: Neutrogena Ultra Sheer Dry Touch Sunblock SPF 50+ (PA+++) is a breakthrough in sun protection. Stabilized with Helioplex, it provides superior balanced broad-spectrum protection against skin-aging UVA and burning UVB rays, and combines it with Dry Touch technology for an ultra-light, non-shiny finish. This lightweight sunblock has a light fresh scent and is gentle enough for even sensitive skin.
Waterproof, sweatproof, resists rub-off
Non-comedogenic (won't clog pores)
Oil free and PABA free
Price & Amount: When I bought this, it was a little less than P500 for 3.0 fl. oz. / 88mL. The price has increased in recent times but no more than P550, I think.
Packaging: Matte squeeze-type bottle which is nice to hold. The dispensing hole is a bit big so you have to be careful when squeezing the tube lest you want to deal with projectile blobs of sunblock :)
Review:
Neutrogena Ultra Sheer Dry Touch is the answer to my wish for a non-greasy sunblock or sunscreen. The consistency is thicker than the Cetaphil moisturizer I previously reviewed (click
here
), but spreads easily also. I think it even spreads better than the Cetaphil one, because it absorbs much more quickly. Again, it dries to a non-greasy finish which I absolutely love, though you could still tell/feel that you applied it. Still, the finish for me is more than good enough. :) Its SPF 50+ rating protects you from UVB rays while the PA+++ rating is the highest you can go for UVA ray protection. I use it mostly for my body though I have tried it on my face before and it's comfortable enough. However, I avoid putting too many layers on the face with this sunblock on because it will start to feel heavy. Also, I think it broke me out. :( It has dimethicones in the middle of the ingredient list which may explain why.
Overall, though, I'm very pleased with this sunblock and I'd definitely repurchase. For a facial sunscreen, though, I'm trying out Leyende's Place In The Sun but I'm also interested in Neutrogena Waterlight. Or even Venus & Mars tinted sunblock, which Kira
reviewed
before. Choices, choices :)