Note: This is a long review. If you are ready, read on!
Blemish balm cream or BB cream: wonder products that promise to give you the world and a cup of tea. BB creams claim everything from whitening, anti-aging, anti-wrinkle, acne healing, moisturizing, sun protection, good coverage, oil control, brightening, scar lightening, to evening skin tone, and honestly, it's easy to get caught up in it. (If you don't need any of what I just listed, can you give me your skincare routine? :D) It's convenience in a tube... kind of like fastfood.
BB creams for me are a type of foundation with added properties, and they may actually be more traditional than most people think. Considering the many virtues extolled by BB creams, they would probably need quite a combination of ingredients to achieve those. But I still... can't... stop... buying... them...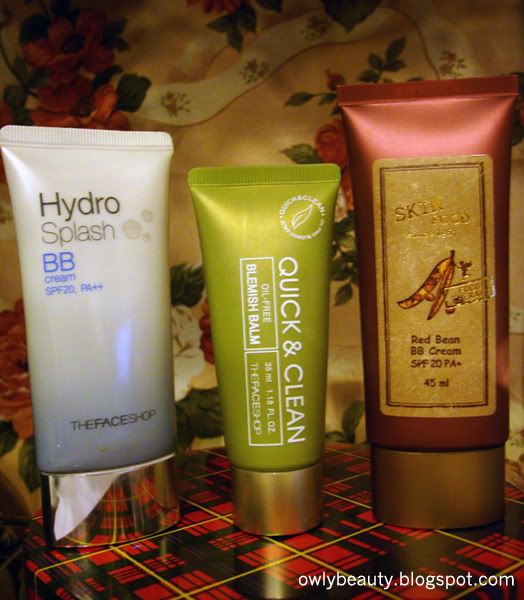 The Face Shop Quick & Clean Oil-Free Blemish Balm
: Formulated with our enhanced Quick'n Clear Complex and Malt extract, this oil-free protective moisturizer soothes the skin while providing natural coverage to hide flaws.
The Face Shop Hydro Splash BB cream
: Skin tone correcting moisture rich formula protects, soothes and gives natural coverage.
Skin Food Red Bean BB Cream
: A hydrating BB cream with red beans that nourishes and moisturizes rough skin while providing natural yet flawless coverage even when applied in a thin layer. (I have this in #2, Natural Beige)
Jump for the review!
When I look at a BB cream, there are a few things that I usually look for, as illustrated in the table below:
| | Hydro Splash | Quick & Clean | Red Bean |
| --- | --- | --- | --- |
| Price | | | |
| Amount | | | |
| Protection* | | | |
| Undertone | | | |
| Shade Range | | | 1 (light beige), 2 (natural beige) |
| Coverage | | | |
| Finish | | | |
*For more information on SPF and PA protection, please click
here
for my post.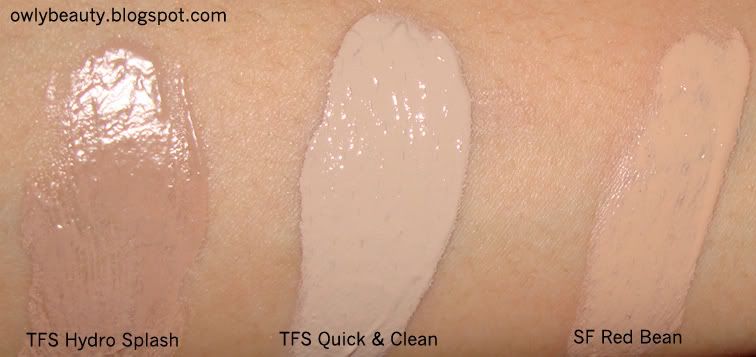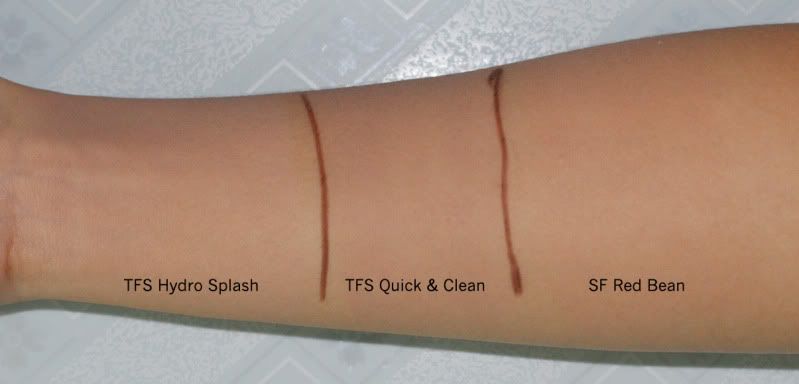 Blended (used an eyeliner for division, haha!)
What I like about these BB creams:
They are hygienic. HS came in a box, while QC & RB were both wrapped in plastic, and the nozzle is sealed until your first use like so: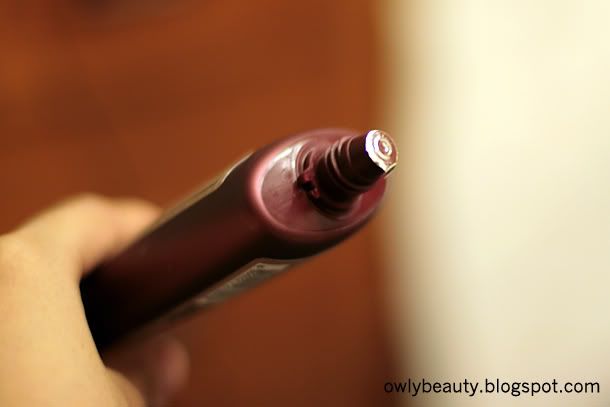 Tube packaging makes it easy to control the amount of product
Nicely scented. QC smells a bit like tea tree (it's in the ingredients), while HS and RB are a bit floral. They are all actually rather subtle and go away a minute or so after application, but it's something of note if scented products bother you.
Easy to spread and blend. Also I like how you can apply them with a variety of ways! I started with fingers, then brushes, and now I'm using sponges.
SPF content of HS and RB are good for daily office use, while QC does have titanium dioxide so it provides some level of sun protection.
Oil control is average, around 3-4 hours for all the BB creams, and usually it just comes out as a dewy glow on me. HS and RB are moisture-rich formulas and meant for dry skin, so QC is a safer bet for oily skin.
They self-adjust. In the swatch picture the three all look very different, but they all blend out well.
They even out my skintone and minimize redness. I did not realize how much redness I had been trying to cover up with concealer until I used these!
Speaking of concealer, they minimize my concealer use too. When I'm off for an errand or something equally informal, I just use one of these with a dusting of powder and head out the door.
All available locally, check your nearest The Face Shop and Skin Food stores.
And what I don't like (sadly there are):
Limited shades. Despite adjusting, none are my exact shade (I think I am NC35 in MAC). If you enlarge the blended-out swatches, you will notice yellow patches next to the eyeliner. That is my exact skintone. I have also learned that you cannot base a BB cream on its swatch, you really have to blend it out and let it settle for awhile. TFS Hydro Splash swatched the darkest but when blended comes out a shade lighter (perhaps due to the undertone), while the other two come out darker. They are not that noticeable when face-to-face, though, and I even out the darker ones with a powder.
They contain silicones, parabens and talc. The silicones would break me out if I used these daily.
White cast in pictures. :( This effect may be more pronounced due to other layered products (such as powder). For me, QC would have the least white cast, followed by RB then HS. This is TFS Hydro Splash taken with a dSLR. Skin looks better, yes, but it looks like a whole shade (or two) lighter: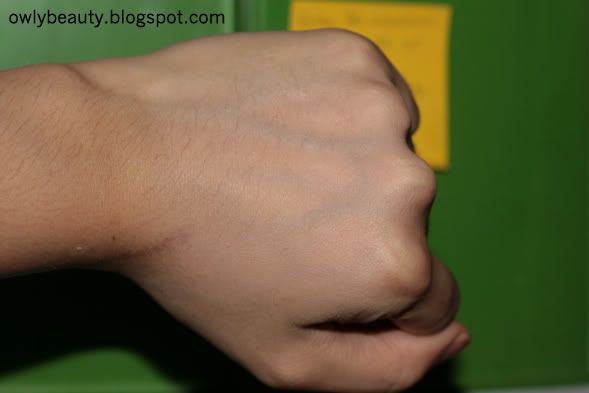 Still need a concealer for full coverage. I get OC about the remaining redness and blemishes!
Need to be set with powder, or else they slide off.
Lack of samples available at counters. For something that adjusts uniquely according to the wearer's skintone, it is a hassle to have to apply the product in-store then excuse yourself to find natural light.
SF Red Bean is overpriced in-store. I bought mine from an online store where it's cheaper, but you have to wait around a month if it's pre-order.
On the whole, BB creams are nice products to have around. I really do love how they even out the skin and reduce redness, but the shade selection is a bit of a problem. There are few BB creams made for anyone darker than NC30-35, and even people who fall in that shade range (such as myself) might have a hard time finding an exact match. Really do your research if you are thinking of getting one, and if possible, buy or ask for samples. It will save you money in the long run, since a tube of BB cream can easily cost you 500 pesos or more.
Whew, that was a long one. If you read this far, thank you! o: You're amazing. :)