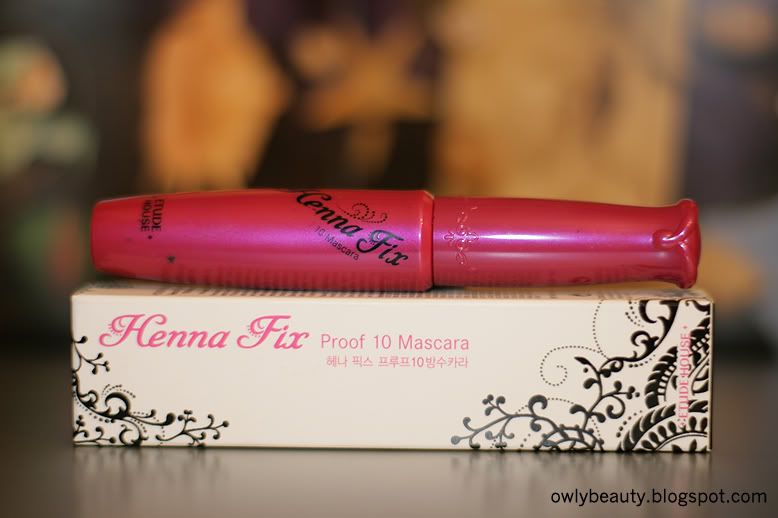 Working in a casual business environment has made me lazy in my makeup routine. When I am in a hurry but I feel like looking a little more presentable, I choose mascara over eyeliner and blush. Mascara opens up the eyes, doesn't make me look too overdone, and mistakes I make with it are easier to correct. I've been reaching for Etude House's Henna Fix Proof 10 mascara for those times. I've used it so much that I've rubbed out the "Proof" label AND left mascara stains on the tube (see picture). Oops. Time to give this product some love.
Description: Formulated with henna extract, Henna Fix Proof 10 Masara supplies precise lash definition and weightless volume with its unique waterproof formula that won't budge to tears or sebum.
Price, Amount, Availability: Php628 for 10g (0.34 oz), locally available in Etude House stores across the country. The shade I have is #1 Henna Black, but there is also a #2 Henna Brown variant.
Packaging: I admit, the packaging drew me to this out of the many mascaras EH offers. The tube has a very girly, Victorian design, and the hot pink color stuck out in a sea of dark-colored mascara tubes.The henna-like design on the box is really pretty too. If you look for this in Etude House stores you might find it in its 2NE1-themed packaging, with the henna-printed box inside.
Review: One of the reasons I bought this mascara is the wand, yet again. I like trying out different kinds of wands to see what effect they give. The wand is a swirly affair, like so:

I like the wand as it does its job in separating lashes, and there is enough product left in between the bristles that you can wiggle at the base of the eyelashes for a bit more volume, even if you blot it with a tissue before application. It's also small enough to maneuver around the corners of the eyes and along the lower lashes without being too unwieldy.

The formula, #1 Henna Black is a nice dark black, which can clearly be seen with the well-defined look the wand gives. It does make lashes longer, but gives only a little bit of volume. You really have to utilize the wand if you want fuller-looking lashes since the formula by itself won't give you that. However, it doesn't clump as much! Two to three coats will still give you reasonably separated lashes, which can be followed up with a spoolie brush if you're still not comfortable with the overall result. I have also read in some other reviews that the formula doesn't hold a curl for very long, but I put mine on without using a lash curler (I forgot) and it still held after 6-7 hours. Long enough for almost an entire workday.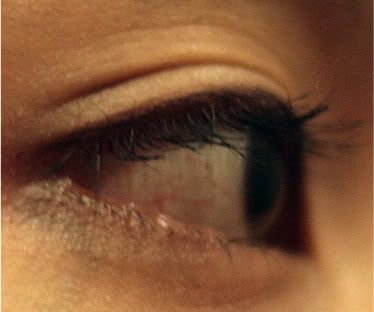 After 6-7 hours. Tired eye, but still-perky eyelashes.
While I did not notice any smudges--the formula is waterproof--I did see a little flaking towards the end. This could also be because the formula is pretty dry, and it shows: this is my newest mascara and a few other tubes I own look better than this one after a couple of months. This does make the mascara less value for money, and chances are high that you'll find better ones out there for a little less. All in all, I do like this mascara and it's a good one for everyday, but I would advise that if you buy a tube use it until you can't anymore since it dries up quickly.
Have you tried Etude House mascaras? If yes, how did they fare?