My bout with laziness over the Holy Week vacation and beyond has inspired me to write a little more. That and I've been reading all the glossy entries on
divasoria
. They are worth reading if you love your beauty blogs like me, though I feel like such a voyeur wanting to know what our local personalities and creative minds use in the bathroom and on their faces. :P
Today I share my skincare routine. I suffer from dry-combo skin as a combination of nature & psoriasis so most of my stuff focuses on hydration. I took these pictures with my mom's camera, forgive me for the quality. My everyday lens does not lend itself well to group pictures like these. All together now...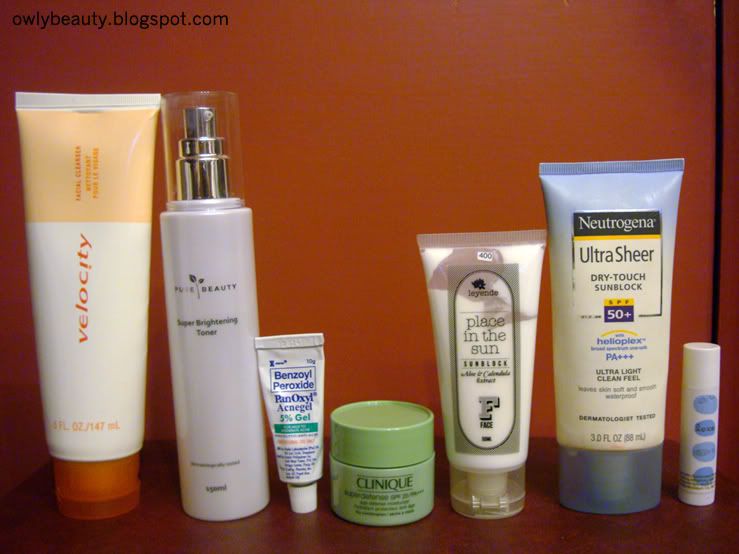 Say hello to my morning routine! It looks like a lot, doesn't it?
Mary Kay Velocity is my facial wash at the moment. For a gel cleanser, this isn't drying and I quite like the gentle exfoliation it provides, though I was a bit surprised to find that this costs Php685. (I got it as a graduation gift.)
For toning I use Pure Beauty Super Brightening Toner. I'm guest-reviewing this for Kira, so watch out for it in her blog soon as I'm due to send her my piece! I should work on that one after this entry. Love the scent!
Ah, PanOxyl for those nasty pimples. I'm just trying to finish this as I prefer Differin. This can sting a little so it's best to take a lower percentage first then go up, I believe this is available in 2%, 5% and 10% variants.
I'm starting out with Clinique Superdefense SPF 25/PA+++ as a moisturizer. I got this from the recent Clinique party and so far, so good. It does make me a tad dewy, though, and I just prefer matte finishes.
My sunblocks are Leyende Place In The Sun for face and Neutrogena Ultra Sheer Dry Touch SPF 50+ for the body. Though Leyende is a sunblock, I do away with Clinique when I use it because they're both moisturizing and with SPF anyway. Neutrogena is the best body sunblock I've tried so far, and I usually apply this in the car on the way to wherever.
Lastly, I prep my lips with Mentholatum LipIce Fruity. Not waxy yet moisturizing, has a refreshing tingle, and has SPF15. Sold.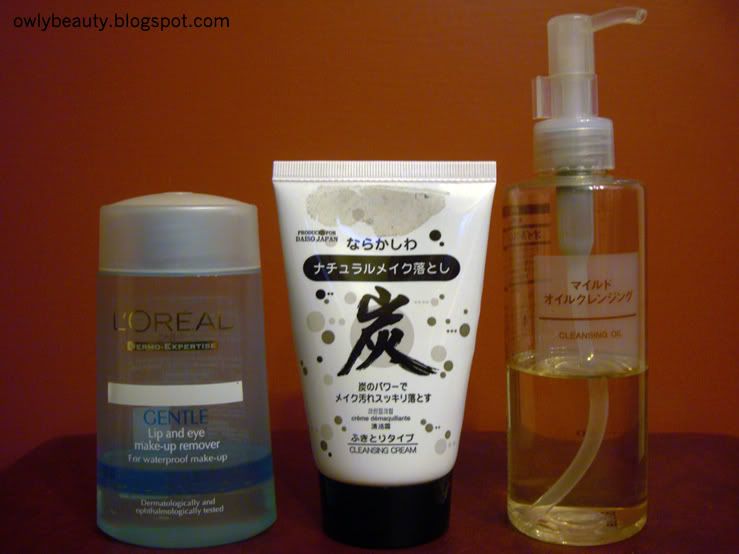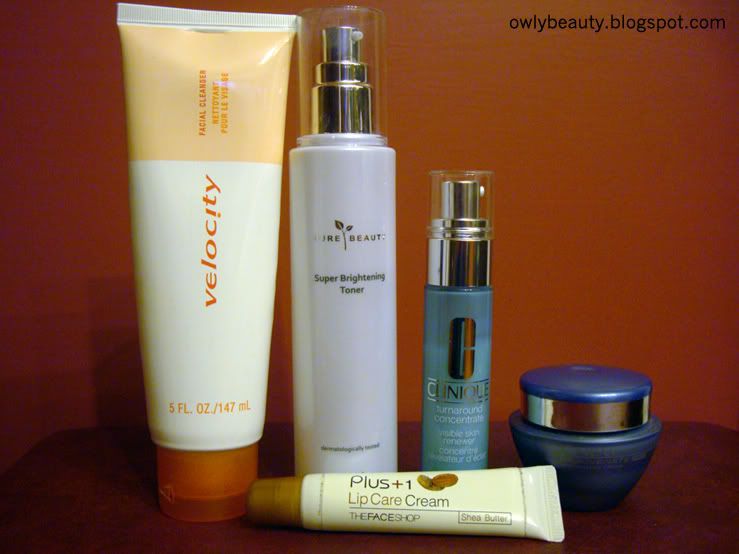 My night routine consists of the same facial wash & toner, and I do away with the SPF products for night-appropriate ones. I forgot to include PanOxyl in the picture.
After the Clinique party, I made it a point to start reusing my Clinique Turnaround Concentrate. I stopped before because I got scared of the breakouts, which I am now just bearing in the hopes of a no-pain no-gain situation. I will update on this!
My night moisturizer is Anew Rejuvenate Revitalizing Night Cream, which I love because of its gel texture and how I wake up with supple skin after using it.
I've written before about my dry lips, so I got The Face Shop Plus+1 Lip Care Cream in Shea Butter for nightly use. It's pretty good and I love the shea butter scent, but I believe TFS is phasing this out soon in favor of their Lovely ME:EX lines.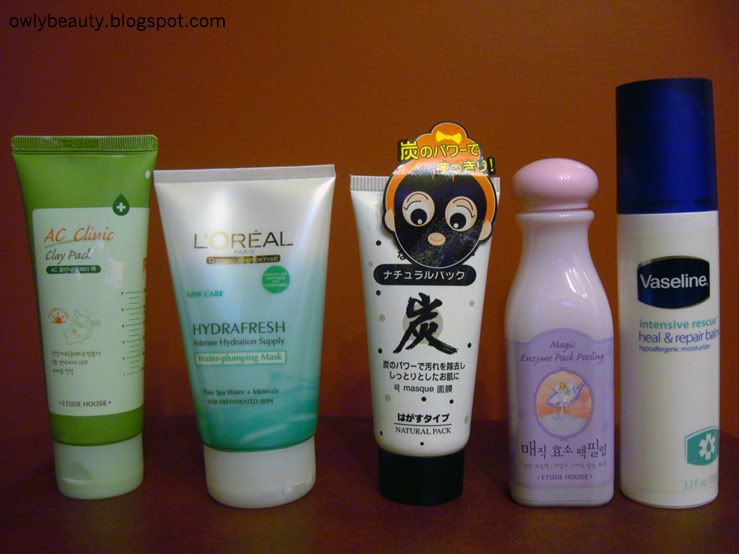 These are my special use products. I don't use these as often (usually just once a week and depending on the weather) to merit long-term claims, and usually never together especially if they target the same area since that'd be too much. Thus they finish much slowerrr, which is killing me. I need to reduce the number of bottles in my room!
I use Etude House AC Clinic Clay Pack for when I have breakouts since it helps to calm them down. I like the scent too.
L'Oreal Hydrafresh Water-plumping Mask is something I got in Singapore, and I've found it to be awesome on those hot summer days/nights. It has a nice spa-like scent, a bit of a cooling effect, and is meant to be used after cleansing. You can rinse it off with water or wipe it off with toner, but I prefer the former.
The famous Daiso Charcoal Mask is painful to remove and smells strongly of alcohol, but my pores look cleaner. Still, it's not totally effective--I'd recommend going to a dermatologist if you really want to eliminate those blackheads.
Etude House Magic Enzyme Pack Peeling is, as I said in my review, meant for the face but now I use it on rough patches on the body, like my elbows and knees. It's smoothy smooth skin after!
I picked up Vaseline Intensive Rescue Heal & Repair Balm in Duty Free when my psoriasis patches healed and became dry. In retrospect, it was like buying petroleum jelly in a pump bottle. It worked a treat back when the weather was still pretty cold, though, so I'll keep this for those times. Too greasy for summer.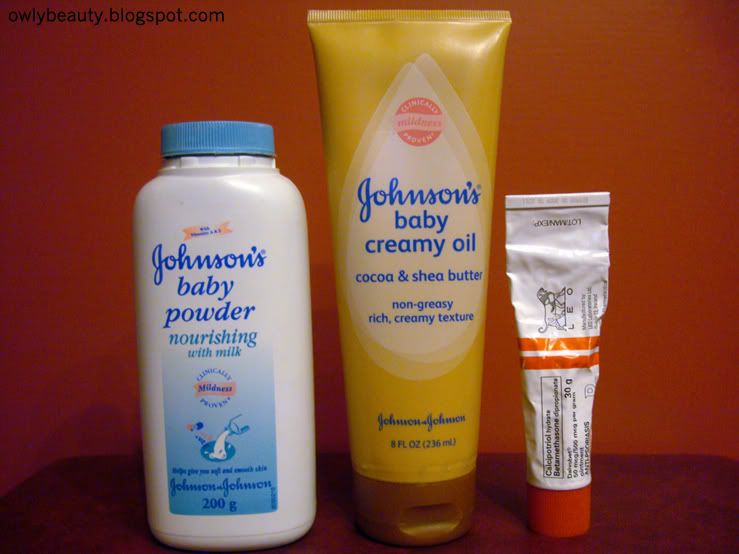 Last but not the least are body products. Funny how I use so much less for so much larger a part of the body.
Yeah, I'm a loyalist. I've been using Johnson's Baby Powder since childhood and I never got off the habit. Right now I'm using this milk variant which smells sooo good.
The best tip I can give for taking care of your body is to use lotion right after a bath. Pat, don't rub, your skin with your towel and apply all over. (Or your legs and feet if you're not as comfortable yet.) It eliminates the greasy feeling because the lotion absorbs into your damp skin much more easily. I love my shea butter & found Johnson's Baby Creamy Oil in Duty Free, but I also saw it at S&R for Php299, which is not bad because the tube is pretty big (236mL). This looks like a lotion but spreads more easily.
Lastly, I have Daivobet for my psoriasis patches which are mostly on the scalp, with a few scattered everywhere else. I'm thinking of making an entry one of these days to explain more about it, what do you think?
I didn't realize I used so many products for my upkeep. What's worse is I have backups for most of these, whether in the form of different products, variants, or in travel sizes of the same product. No wonder tubes and bottles and pots are mushrooming all over my room. :| Need to downsize. A lot of these products haven't been reviewed yet, so if you'd like to know more about them just leave a comment. If you made it this far, thanks for reading! :)